Innovative and climate-smart ideas arise in The Hive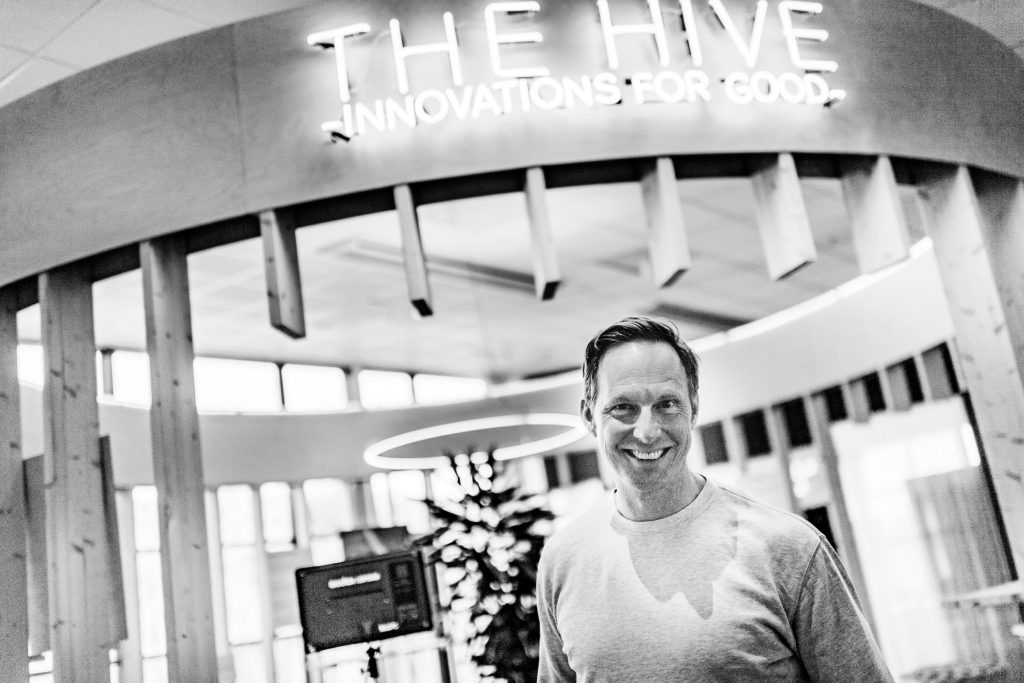 Article published in magazine "Innovative companies" December 2021.
VINCI Energies is one of the major players in the areas of infrastructure, industry, IT and the services sector. With the vision and the will to change the world through acceleration of energy transition and digital transformation, they have formed the innovative project The Hive which is a shining example of how they fulfill their vision.
By working sustainably with digitization and innovation, we see good opportunities to make a real difference. We want to help reduce our carbon dioxide impact and find smart solutions for replacing old fossil energy sources with climate-smart and good energy sources, says Anders Harling, Founder of The Hive project at VINCI Energies.
Anders says that the VINCI group has set a goal of having reduced the group's carbon dioxide impact by 40% by 2030 and that they will be a completely climate-neutral company by 2050.
– We will do our very best. If we, together with our 260,000 employees, customers and partners together, can fight to reduce our carbon dioxide impact, we have done some at least, says Anders
The Hive is an initiative that makes it easier for our independent business units and brands to collaborate with each other on specific issues in the environment, energy and digitalisation. Part of The Hive is about being able to bring a customer together with, for example, an engineer, an IT technician and an electrician to be able to share their ideas and thoughts in a structured way.
– We have developed a methodology for how we can take advantage of all the resources in the company around the theme: how can we be involved and make our world better? It's one part of The Hive. The second part is that we have built an innovation center in Stockholm that you can visit. It is an exhibition of environmentally smart solutions that we have already implemented in the group. One project that we and partners are running in Visby is a 4 km electric road section in Visby where you can charge your car or truck just by driving on the highway. Another project that can be seen in The Hive are large charging posts that we have installed in ports. They prevent ships from running on diesel engines in port, which otherwise leads to a lot of CO2 emissions. In the charging posts, it is possible to connect a large electric cable and let the boats run on electricity instead, Anders says.
The Hive was built in 2021 and the entire construction is climate neutral. Climate-friendly materials such as plywood have been used and they have worked with hemp mats and 3D-printed installations from recycled plastic.
Anders explains that the goal of idea workshops and innovation labs is to find projects that VINCI Energies can start directly with customers. Or maybe the idea is good enough to be able to become a company and then there are also opportunities for the VINCI Energies group to work with internal startups. There are funds that you can apply for to get the corresponding venture capital to start a company or a business area to drive the idea and test it on the market.
– VINCI Energies has a strong focus on innovation and the Hive is also proof that we are innovative and are engaged in innovation in a structured way. We have a place, we have a process, a ready-made digital platform and budget and funds to support this. There are currently three other innovation centers within VINCI Energies. They are found in Frankfurt, Paris and in Belo, Brazil. The Hive in Sweden is the fourth center, but is the only one that has full focus on sustainable innovations, says Anders.
When VINCI Energies started the idea, they had a name competition among all employees about what the project would be called. They received many proposals but it landed on the name: "The Hive, innovations for good".
– The Hive is a hive and bees remind us all that nature is very fragile. We see that bees are dying out due to air pollution and we also know that bees are experts in working together to build a beehive. You have to collaborate and it fits well with how we thought about this concept that we should collaborate to find new or develop other ideas. It is "innovations for good" and "good" in this concept is "good for the planet" but also "good for business". I think everything is connected and if we can do business that is climate-smart, everyone will be a winner, Anders concludes.
Text: Isabelle Ibérer, Wendelin Media
Read more about VINCI Energies in Sweden:
vinci-energies.se